Wound & Ostomy Care Clinic
Lorma Medical Center's Wound & Ostomy Care Clinics is one of the newest facilities of the hospital. It is within the premises of the Out-Patient Department 3. It operates from Monday to Saturday, 8:00AM to 5:00PM.
The Wound & Ostomy Care Clinic is manned by two staff nurses, namely Ms. Antoinette Joy M. Catbagan and Mr. Darryl Melver V. Tan, who had recently attended trainings and seminars regarding this new field of nursing. These nurses serve in both in-patient and out-patient bases. Procedures done are in connection with surgical and/or medical doctor's orders. The Wound & Ostomy Care Nurses are guided by the Special Services' Supervisor Ms. Marissa G. Ladia, the Nursing Director Mrs. Glory B. Mayo, and the Medical Director Dr. Mario T. Bautista.
SERVICES OF WOUND & OSTOMY CARE CLINIC
• Wound / Stoma assessment
• Wound care and dressing
Surgical Wounds

Pressure injuries

Diabetic foot/leg ulcers

Burns

Injuries
• Negative Pressure Wound Therapy
• Ileostomy / Colostomy Care
Counceling / Health Teaching

Applications of stoma appliances

Offers modern-day supplies for stoma
• PEG care
• Removal of suture / staple from surgical wounds
• Foley catheter insertion / removal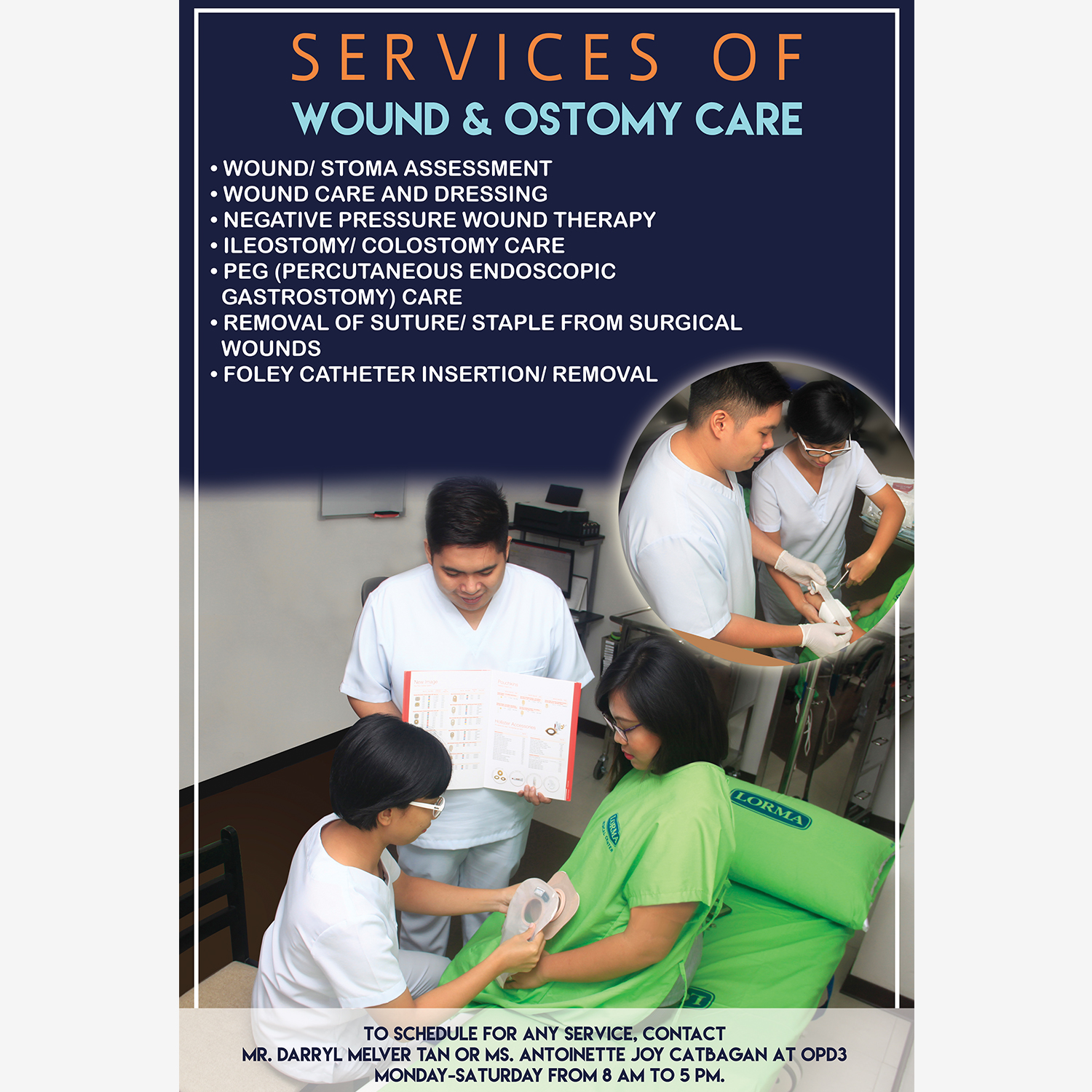 Send your Inquiries to us: